Marantz SR-7011 Receiver – Review
Marantz is one company that is known for making premium quality home audio and video appliances. The SR7011 is the new flagship AV receiver which carries forward the legacy of the brand's SR 7010 model. The enhancements are notable and it gets top notch audio and video features too. You get support for immersive audio formats, along with provision for latest HD video and web streaming technologies. It also blows away the competition with its near flawless performances. It is quite pricey, but buyers get the worth of their money- beyond any question.
Design: Elegant and Classy
Marantz SR7011 does not look drastically different from other AV receivers from the brand. That is actually a good thing. It oozes understated elegance. The duotone effect with brushed metal center and matte curved sides is there. The big volume dial is at right side while at left side there sits the large input dial and power button. A circular display sits between two dials with blue light around. A number of other inputs and ports are also there including USB port, an HDMI (HDCP 2.2) port, headphone jack and stereo analogue input. These are however hidden by a flap that you may miss at first glance. It is also sold in a silver gold variant.
Connectivity: Spoilt for Choice
The truth is Marantz SR-7011 Receiver offers you so many connectivity options, you may get spoilt for choice literally.  As usual, most of the connectivity options are located at back side of the device. The rear side has inputs for composite video, analogue audio inputs, optical digital inputs. There are 7 HDMI inputs along with 3 outputs. All HDMI ports are compliant with HDCP 2.2 as well as HDR content. You also get AM / FM tuners sockets, LAN port and RS232 port.
If you are the kind of person who prefers wireless setups over using a lengthy mess of wires for your appliances, the Marantz SR7011 will not dishearten you. There is inbuilt support for Bluetooth and wi-fi. The WiFi dual band2.4 GHz/5 GHz support is there. It has two subwoofer outputs. You get the standard remote control which looks classy owing to black brushed metal effect with silver trim. The remote controller layout is simple and large buttons make it ergonomic too.  You get a small display at top section of the remote. It does not take long before you get used to the remote.
Geeks can opt for the intuitive Marantz remote app, available both for Android devices and their iOS based counterparts. The graphics and response is amazingly good.
Features: You name it, Its' There!
The Marantz SR7011 is an AV Receiver with 9 channels. Each channel has identical configuration and provisions for stable power supply. The company's Hyper Dynamic Amplifier Module ensures audio quality is not affected adversely regardless of the source. It also gets equipped with top quality 32-bit/192kHz DAC.
The device deploys Audyssey MultEQ XT32 and Audyssey Dynamic Volume to ensure you get pristine output minus distortion and sudden hike in volume. If you are looking for support for latest surround sound formats. This device will not let you down. It supports Dolby Atmos as well as DTS: X standards. In fact it supports the Dolby Atmos 7.1.4 layout. As for HD video, there is support for 4K HDR content. Up conversion of standard definition video is supported as well. Marantz SR-7011 Receiver is Imaging Science Foundation certified and comes with a set of video calibration controls.
As far as wireless media streaming is concerned you are not exactly limited to WiFi and Bluetooth. It supports popular web streaming services like Spotify and Apple AirPlay is also supported. It also has DLNA 1.5 certification and Internet Radio support. Supported audio formats include MP3, WAV, WMA and FLAC.
The Marantz SR7011 offers support for HEOS multiroom system. You can pair it with HEOS speakers and stream audio in other room of the house. You can stream web streaming services smoothly at 2 zones.
Setup: easier than you imagine
You may feel setting up such a feature rich AV recover with oodles of ports and controls would be a gargantuan task! It is actually the opposite. The enhanced Setup Assistant helps you sail through the setup. The Setup GUI is simple. Its included microphone is used to run Audyssey MultEQ XT32 room equalization. The Marantz SR-7011 Receiver is laden with Audyssey Platinum suite including Audyssey MultEQ XT32 automatic acoustic room correction. Printed setup guide is also there in the box but chances are there you may not actually need to use it.
Performance: Mind blowing and flawless
After running the setup and tweaking the calibration you need to check the performance. The Receiver excels at anything you throw at it, literally. The DTS-HD Master and Dolby TrueHD audio tracks are rendered exactly the way they are meant to be. From bass to voice clarity, you cannot complain about anything. With the HDTV and Blu ray player setup with this receiver, you will get truly immersive audio visual experience. Even analogue audio sources are handled with equal precision as digital ones.
| MARANTZ SR-7011 | Specifications |
| --- | --- |
| Front Panel Type | Metal |
| System Remote Control | RC031SR |
| Power Consumption | 710 Watts |
| Power Consumption No-Sound (ECO on / off) in Watts | 65 Watts / 110 Watts |
| Standby Consumption | 0.2 Watts |
| CEC Standby Consumption | 0.5 Watts |
| Network Standby Consumption | 2.7 Watts |
| Marantz SR-6011 | Dimensions |
| --- | --- |
| Maximum Dimensions (W x D x H) in Inches | 17.3 x 15.8 x 7.3 |
| Weight | 31.1 Pounds |
| Marantz SR-7011 | Other Specs |
| --- | --- |
| Power Output (8 ohm, 20 Hz - 20 kHz, 0.08% 2ch Drive) | 110 Watts |
| Power Output (8 ohm, 20 Hz - 20 kHz, 0.05% 2ch Drive) | 125 Watts |
| Power Output (6 ohm, 1 kHz, 0.7% 2ch Drive) | 165 Watts |
| Power Output (6 ohm, 1 kHz, 10% 1ch Drive) | 235 Watts |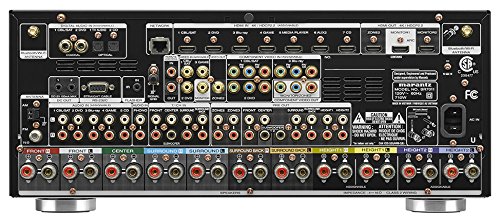 Where it all leads to?
As a matter of fact, it is hard not to recommend Marantz SR7011 if money is not a barrier for you. From design to feature and performances it hits all the sweet spots. The connectivity options are aplenty, both wired and wireless options. The remote control is a joy to use and you can also use the app which is sleek. Despite being so feature rich, the receiver is simple to setup and running the calibration is also easier than you think. From Dolby Atmos to 4K HDR content, it support all latest audio and video formats that you need to enjoy latest Blue ray discs with no compromise in quality. The HEOS multiroom system is like icing on the cake and you can use major web streaming services along with radio. However, the predecessor is a bargain deal if you can live without HEOS multiroom support.