Marantz SR-6011 Receiver
Marantz is one brand that is known for making some of the most feature rich and premium class AV receivers and they are eyed by people seeking entertainment minus compromise. If you are looking for a top notch performer in this segment, the SR6011 from Marantz is worth a consideration. This versatile AV receiver sits somewhere between the siblings SR5011 and SR7011. It is quite future proof- in terms of features and performance wise trounces most segment rivals.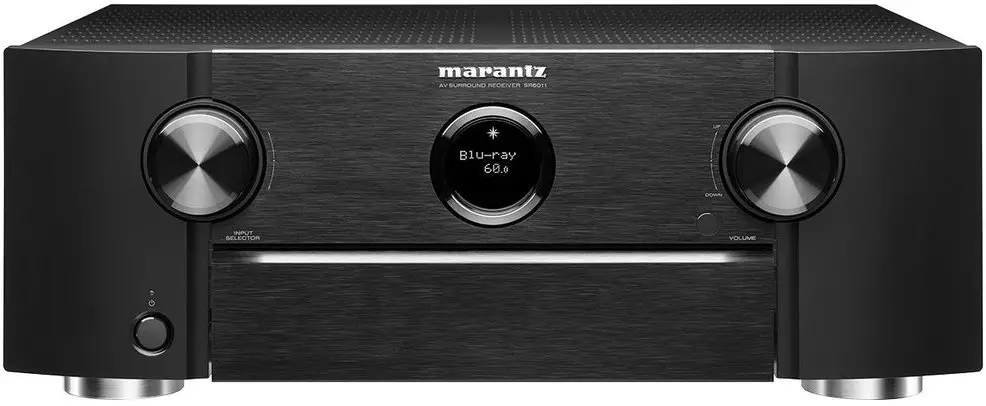 Design: Minimalistic but Elegant
The Marantz SR-6011 Receiver has a minimalistic yet classy design. Its curved matte panel is what makes it stand apart from most segment rivals. The center of the box has a nice lovely brushed finish, and the black version looks really elegant. Some people may also like the shiny silver variant of the model.
The display panel is nice as it does not overwhelm you with information, but you get to know what is required for operation. The thick flap at bottom conceals buttons and sockets. There you can get eight HDMI inputs, USB port, output for headphones, and port for the calibration microphone. The nice thing is the HDMI inputs support HDCP 2.2 and 4k content- bliss for media lovers. There are rows of buttons for controlling sound modes and radio presets.
At the back of the device, you will find more ports and connectivity options. You get 7 additional HDMI 2 inputs along with 2 outputs. Again, they all support HDCP 2.2 and 4K HDR compatible content. There are four digital audio inputs (coaxial x 2, optical x2), analogue AV ports, 7.1-channel analogue inputs to cater to user needs. Apart from these, you get RS-232 ports, Ethernet port, IR ports, and a remote control.
Features: The more- the merrier
The Marantz SR6011 is nine-channel receiver with 185W output per channel. The feature set is impressive to say the least. It will satisfy even the more demanding type of users. It supports Dolby Atmos, DTS-HD Master Audio, DTS: X, Dolby TrueHD and Dolby Surround- quite a handful!
Nowadays, all AV receivers offer support for wireless media streaming- more or less. In this respect the Marantz SR6011 scores full marks. It has in built Wi-Fi and Bluetooth. You also get support for major popular web streaming services like Spotify and Internet radio. Apple Airplay is supported too. Playing back hi-res files including formats like FLAC, WAV. The only thing you may miss is lack of support for HEOS multi-room.
The audiophiles will fall in love with the device. It has certification of Imaging Science Foundation. Things can seem a gargantuan overdose for novices in tech- as it is. Just to get an idea, the device has set up to convert both HD and SD sources to 4K resolution. The device is Control4 SDDP compatible which ensures easy integration with the home automation equipment.
Setting up: A geek's dream
There is no denying the reality the Marantz SR6011 is one multifaceted and complex AV receiver. It is what a true geek can dream about. However, that does not necessarily mean a technologically inept person cannot use the device! You need to connect the SR6011 to a TV and then the Setup Assistant will walk you through the rest of the setup process. It does not take a long time either. The informative graphics and crisp descriptions ease the task. However, you need to be careful before delving into the Audyssey MultEQ XT32 calibration system. A cardboard tripod and microphone is what you need to let the setup run and set speakers accordingly.
There are a lot of features to ensure you can enjoy pristine quality sound output minus any distortion or loss in quality, no matter what the source is. For example, Audyssey Dynamic EQ helps maintain optimum tonal balance while Dynamic Volume thwarts jumps in loudness.
The Marantz SR-6011 Receiver is simple to operate and the fuzzy graphics and clean menus simplify the process. The menus are more or less self explanatory and the finding music across USB stick or NAS drives is simpler than what you would think.
The remote control device is pretty large, but the buttons are easy to navigate. The layout is not cluttered. While it is not backlit, the buttons glow in darkness, which is handy. It is actually quite sleek looking- owing to silver trim and brushed finish. You may also try the AVR Remote app which actually coverts your tablet or phone into a handy remote device. The app is user friendly.
You do not usually shop for an AV receiver of home entertainment devices with the aim of saving power. But, the Marantz SR6011 lets you do that through its innovative Eco mode. It has an Eco meter and there is a special power saving mode too. The nice thing is that Eco mode does not affect sound quality in any adverse way.
Performance: cuts the ice brilliantly
Performance wise, the Marantz SR-6011 Receiver leaves almost no room for grudges. Whether it is Blu ray movie or any analog audio source, the bass and mid tones get rendered flawlessly. The Dolby Surround effects works as magic and you can distinctly identify every hiss, metal clank or variety of sounds individually and with clarity. However, for immersive audio visual experience, watch a movie in Dolby Atmos format. File formats are also handled very well, including low bit rate MP3s.
| MARANTZ SR-6011 | Specifications |
| --- | --- |
| Front Panel Type | Metal |
| System Remote Control | RC025SR |
| Power Consumption | 680 Watts |
| Power Consumption No-Sound (ECO on / off) in Watts | (TBD) |
| Standby Consumption | 0.2 Watts |
| CEC Standby Consumption | 0.5 Watts |
| Network Standby Consumption | 2.7 Watts |
| Marantz SR-6011 | Maximum Dimensions |
| --- | --- |
| Antenna:Horizontal:(W x D x H) in inches | 17.3 x 15.7 x 6.3 |
| Antenna:Vertical :(W x D x H) in inches | 17.3 x 15.7 x 9.1 |
| W/o Antenna:(W x D x H) in inches | 17.3 x 15.3 x 6.3 |
| Weight | 28.0 Pounds |
| Marantz SR-6011 | Other Specs |
| --- | --- |
| Number of Poweramps | 9 |
| Power Output (8 ohm, 20 Hz - 20 kHz, 0.08% 2ch Drive) | 110 Watts |
| Power Output (8 ohm, 20 Hz - 20 kHz, 0.05% 2ch Drive) | 110 Watts |
| Power Output (6 ohm, 1 kHz, 0.7% 2ch Drive) | 150 Watts |
| Power Output (6 ohm, 1 kHz, 10% 1ch Drive) | 220 Watts |

Summing it up
There is no reason not to buy the Marantz SR6011 when you want a capable, reasonably future ready AV receiver with oodles of features and brilliant performance. This is clearly not a device for budget conscious buyers. You get more than what you pay for. The support for myriads of surround sound setups and flawless performance in any setup makes it worth buying. Everything from the remote control setup to the Android app, you will find nothing that seems like a misfit with the receiver. Setting up and running calibration is not exactly a child's play, but it is not tedious either.